I have been loving my newly hacked iPhone. I have written a lot about it recently, but I never really told you guys what I have been doing with it. I have mostly just been trying tons of apps out to see which ones I like the most. I found about 20 that I really love. I will start from the best, and go down to the worst (of the best).
1) Apollo IM
Everyone knows and loves Apollo IM. It is the best Instant Messenger on the iPhone. It's simply, user-friendly and has a great UI. You can have multiple accounts of different services (Aim, ICQ, MSN, .Mac), just like Adium. It is really a must have for all jailbroken iPhone users.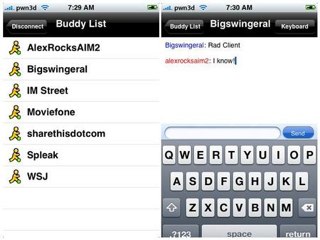 2) SummerBoard
SummerBoard is the easiest solution to theming your iPhone. I hated the fact that there was this dull black screen behind all of my icons. SummerBoard fixes this issue by allowing you to put any image behind your icons. It also will allow you to mod your dock and icon images. Some people have made some sick themes that make your iPhone experience a lot more fun.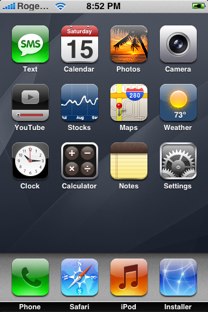 3) WebSearch
WebSearch allows your to search from a choice of many different websites all from one place. This elimiantes the burden of going to the website first in safari. You can add as many websites into WebSearch as you want. It saves a lot of time when you are trying to find something fast.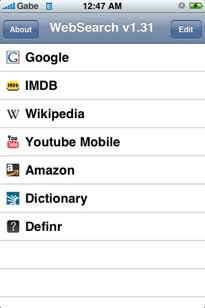 4) SmartRSS
There are 2 choices for RSS on your iPhone. SmartRSS and Mobile RSS. I never really liked MobileRSS because it crashed a lot and worked very slowly. SmartRSS just came out and it's amazing. It works great and has a sweet UI. Just add your feeds and your have a full featured RSS reader on your iPhone.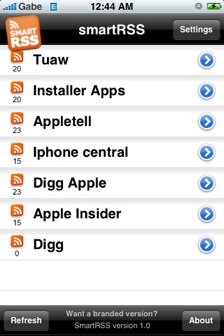 5) Spring Dial
Spring Dial is the simple solution to speed dialing on the iPhone. It will create an icon with the picture assosiated to the number. When you click this image, it starts dialing.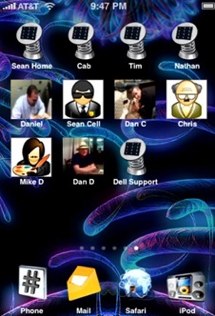 6) Navizon or LocateMe
I am putting both of these apps in the same number because they essentially do the exact same thing. They will pinpoint your position based on cell towers. They are both a much better replacement to the fake GPS built into maps. I have tried them both and they work the same. It is usually perfect or 1-4 blocks off. Navizon also has a feature called "moving." This would be handy if your in a car or something.
Navizon: Video Demo Locate Me: Video Demo (Interface only)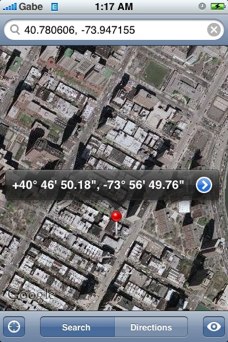 7) WeDict
WeDict is your dictionary solution on the iPhone. Instead of going on safari to look up a word, you can install dictionaries locally and use them with WeDict. This is very useful when reading Shakespeare (I am in school).
Video Demo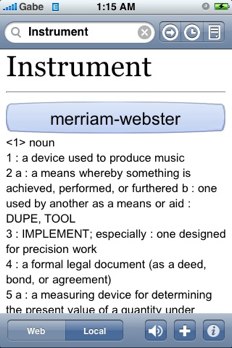 iSolitaire
I never realized how much I loved solitaire until I played this game. I would say that this iPhone game is better than the original one on Windows. It has some amazing animations of the cards flipping over and moving. If you win, the Ace's jump out and fall using the accelerometer. This is great game.
Video Demo (turned animations off)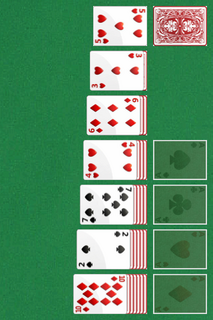 9) Sketches
Sketches is a very fun app. It allows your to draw with your finger. You can either draw on blank "paper" or on images of your friends. Once you are done drawings, shake your iPhone to erase.
Video Demo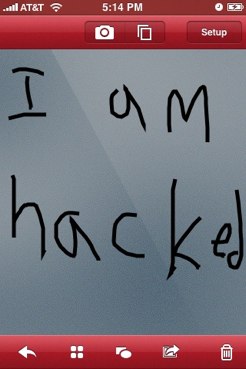 Tap Tap Revolution is a pretty awesome game. Think iPhone guitar hero. As the music plays, lights fall down on three different stands. These lights are the main beats of the song and your job is to tap these lights. You can really get into it when it gets hard.
Video Demo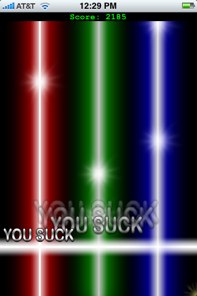 11) Super Pong
Super Pong is a very nice arkanoid style game. You can control Vaus (thing at the bottom) with either your finger or the accelerometer. Playing with your finger is obviously a lot easier than playing with the accelerometer, but playing with the accelerometer is a lot more fun (in my opinion).
Video Demo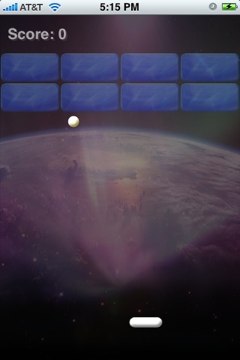 12) Mines
Mines is… minesweeper. Just like iSolitaire, this is a better looking windows game. It's fun when you are bored.
Video Demo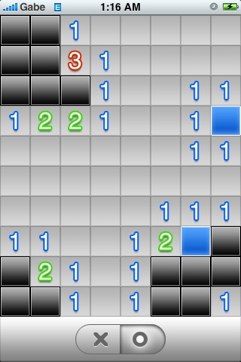 13) Coverter
The title speaks for itself. Converter will convert anything to anything for you. From currency, length, weight, pressure, mass, etc.
Video Demo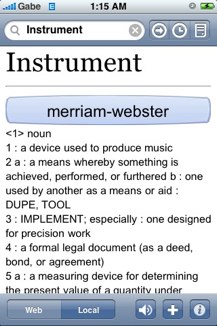 14) Make it Mine
Make it Mine simply allows you to change that AT&T symbol to what ever you want. I changed it to "Gabe" on my iPhone

15) Capture
Capture is the best app for taking screenshots on your iPhone. When you activate capture, it puts a movable tab on your screen that says "snap" or "exit." If your press "snap," it will take a screenshot and put it into your camera roll. It is what I used to take all of these screenshots that I used in this post.
16) iPhysics
iPhysics is a stunning game. The only way to explain it, is to show it:
17) Pianist
Pianist is an amazing piano simulator.
18) PocketGuitar
Pocket Guitar is an amazing guitar simulator.
19) Drummer
Drummer is an amazing guitar simulator.
20) Colloquy
Colloquy is the best IRC client for the iPhone.
So there you have it. I will probably do only one more post in the future about iPhone hacking because I'm sure you guys must be getting a little bored of it. Anyways, thanks for reading and go enjoy those apps!
Note: sorry, got lazy wit the last 5